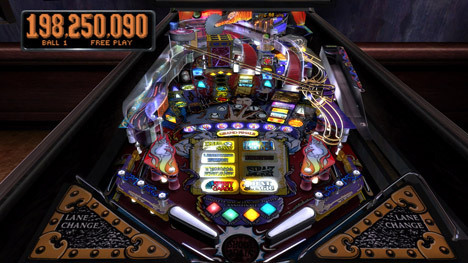 The Pinball Arcade is something I stumbled across while browsing the Playstation Network Store and admittedly purchasing Zen Pinball. The Pinball Arcade is very different from Zen, however, because in the former there are no original tables. Instead of Blade or Plants vs Zombies we have digital recreations of classic pinball games that you can actually still play in real life. Since finding these machines, and then finding them in working order, can be a big pain for casual pinball players, The Pinball Arcade is a great way to experience wonderful tables and get little dabs of pinball history at the same time.
The developers recently updated this downloadable title's interface so that purchasing DLC tables is a much easier process. You can purchase them individually, in their original packs, and now in Season Passes that give you access to all the tables released during certain timeframes. This is amazingly convenient and once I have the money to spend you can bet I will be purchasing at least Season 1 of the two available passes.
I just really enjoy this game because of the nostalgia factor and how faithfully the developers have attempted to recreate the tables. If you are a fan of classic pinball then this is a definite must have, and if you would enjoy a simpler pinball experience when compared to the sometimes craziness of Zen Pinball, then The Pinball Arcade is also for you. Look, if you like pinball and don't already own every machine, buy this game.